December 2020
Spot On Lancashire is a strategic, grassroots arts service run by people who love to support volunteers in isolated communities and in urban library settings. The team has been telling us about their experiences adjusting to these unprecedented circumstances, what their COVID-19 response strategies are, and how they are playing out. Spot on Lancashire's four-point Community Story covers:
Life in Lock-down

Adapting to New Approaches

Considering our Comeback

Navigating the New Normal
Life in Lock-down
We have, of course, had to cancel live performing arts events serving rural and library audiences across Lancashire, as well as other events such as Burnley Literary Festival and Burnley Front Room. We are lucky though in that we don't have an expensive venue to maintain and we've actually adapted well to remote/digital working.
---
Adapting to New Approaches
In partnership with Lancashire County Council Library Service, we quickly commissioned a season of video shorts for broadcast on Facebook and YouTube. Spot On published 26 brand new films between April and July. Season two has been commissioned by The Space and is currently up and running with a series of grown-up stories. A season of videos for children and families will premiere in the new year. These shorts provided valuable contact for and with rural and library audiences in Lancashire. Our shorts have received tens of thousands of views so far.
Spot On at Home
Not forgetting non-digital audiences, Spot On Lancashire, with the support of the National Rural Touring Forum, produced Spot On at Home, a tabloid magazine with articles and craft ideas.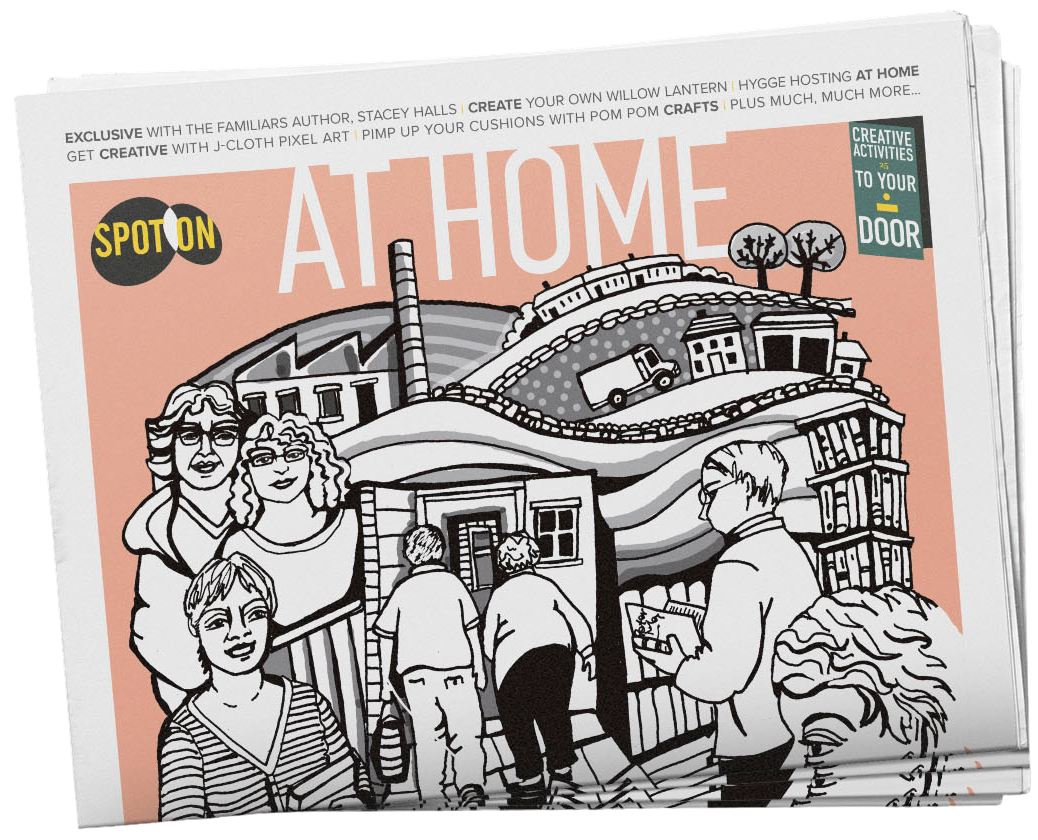 Spot On worked in partnership with Hopeful and Glorious, who normally curate maker's fairs, to recruit artists. We believe that there is significant audience sharing potential between H&G and Spot On. 4000 copies of the magazine were distributed to Spot On's mailing list and via Lancashire's library service to all corners of the county. Feedback has been fantastic. One reader immediately responded "Whose idea was this? Brilliant, thank you so, so much for sending this my way".
Monument
Since the first lockdown Spot On has also launched Monument, by Elliott Flanagan, a digital art commission:
Intended to celebrate 25 years of Spot On with a look at our archive, Elliott's film reflects the social importance of coming together for live events and how we are all missing that in the lockdown. This film was due to tour to our venues this autumn. Instead we released it online in October at a zoom party supported by Marketing Lancashire.
---
Considering our Comeback
It is still early days. Our part of Lancashire has been severely affected so we weren't tempted into programming an Autumn season of live events - we don't anticipate live programming to return before late Spring. We are planning another Spot On at Home, continuing with our Spot On Shorts programme and keeping working closely with our volunteer and library promoters in planning new activities. We are projecting a positive public image and are endeavouring to maintain our brand profile with existing audiences and introduce ourselves to potential new ones.
---
Navigating the New Normal
We have been working on retaining our profile with existing audiences and using social media to promote ourselves to new ones. We are building up a significant amount of data from Facebook and YouTube on audience profiles for our Spot On Shorts season and are working with The Space to make sense of it. Our biggest Facebook audience is women over 65, which is, interestingly, similar to our live audience profile.
The future for us will look like a mix of what we used to do with the new digital content we have created over this pandemic period. We want to maintain our Spot On Shorts/Stories programme as a compliment to our live work, as well as continuing our partnership with Hopeful and Glorious and find ways to actively share audiences.
---

Interested in contributing a Community Story of your own? Download the template HERE.
If you have any questions or are ready to send over a story, please get in touch with vanny.lambert@theaudienceagency.org