Finding new and innovative ways of reaching audiences sits right in the sweet spot of what The Audience Agency does, which is why we were very excited to work with Thrive on the iBeholder pilot project in Northern Ireland.
---
What problem is iBeholder solving?
iBeholder is a simple and intuitive way of gathering audience data for non-ticketed visual arts organisations, which also improves the audience experience. In fact, that's one of the key aspects – it gives audiences something back so they're rewarded for sharing their insights.
The project was launched because non-ticketed venues such as art galleries have a particular difficulty gathering data from audiences – precisely because they don't sell tickets. The lack of data in the visual arts makes it much harder for galleries to understand who their audiences are, what their motivations are and stops them using data to make informed decisions about their audiences.
---
So, what is iBeholder?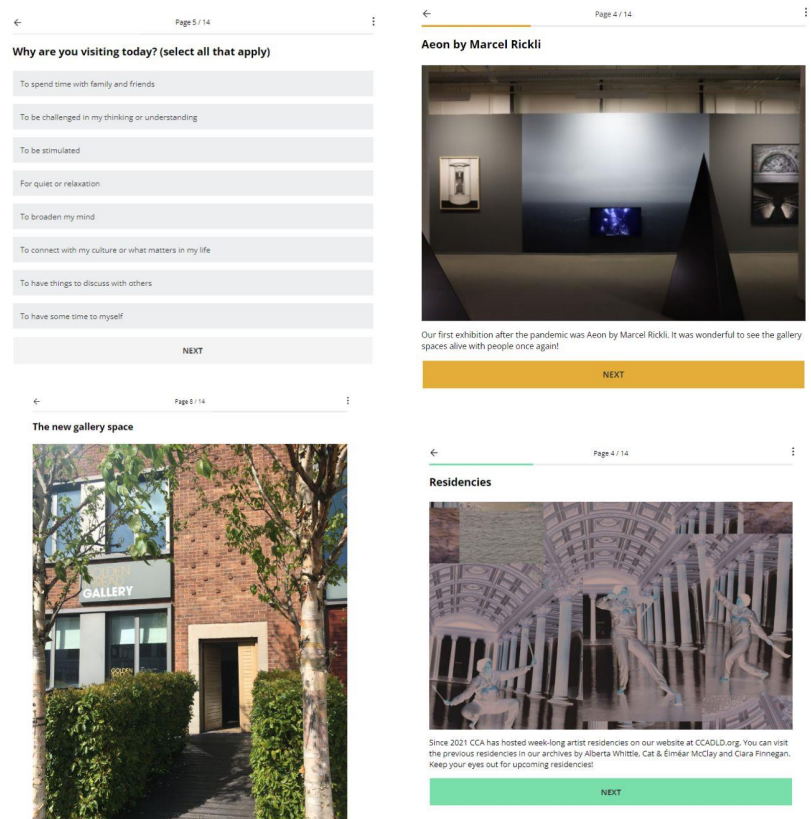 iBeholder is a simple web-based platform, built by our partners Octophin. It collects audience data by asking a series of questions, which are interspersed with bits of interesting and stimulating content - videos, animations, gifs, and images alongside facts or trivia about each venue. The platform is flexible and easily customiseable so it can be tailored to the needs of anyone who wants to use it.
---
Does it actually work?
Thrive's recently published report shows that it more than met its objectives:
Be a new way to gather data

Give galleries useful data

Produce audience focused content to enrich the user experience on the platform

Use digital means to capture data

Broaden the sector's understanding of visual arts audiences
The pilot uncovered valuable insights into audience behaviour, most were new to the gallery, they were able to work out why people had visited, how the visit fitted into their day, what other culture they were interested in and how they felt after their visit.
---
What next?
The pilot of iBeholder was funded by the Creative Industries Seed Fund, distributed by the Arts Council of Northern Ireland. To launch the project, Thrive initially worked with four venues in Northern Ireland, three in Belfast - Golden Thread Gallery, The Naughton Gallery, Belfast Exposed and one in Derry/Londonderry, Centre for Contemporary Art Derry~Londonderry.
Now we want to see if we can take the project to the next level, either making it a permanent feature of the gallery network in Northern Ireland, or rolling it out elsewhere.
So please get in touch if you're interested in working with us on this or are interested in finding out new ways of getting data from your audiences – richard.leeming@theaudienceagency.org
---