---
Highlights
Ticket Sales
22% of all audiences book between 4 and 8 weeks before the performance.
That said, whilst 47% of tickets are sold in November and December, sales begin climbing rapidly from September.
As many tickets – 25% – are sold in November as in January to August combined.
61% of festive shows are performed between 10th and 30th December.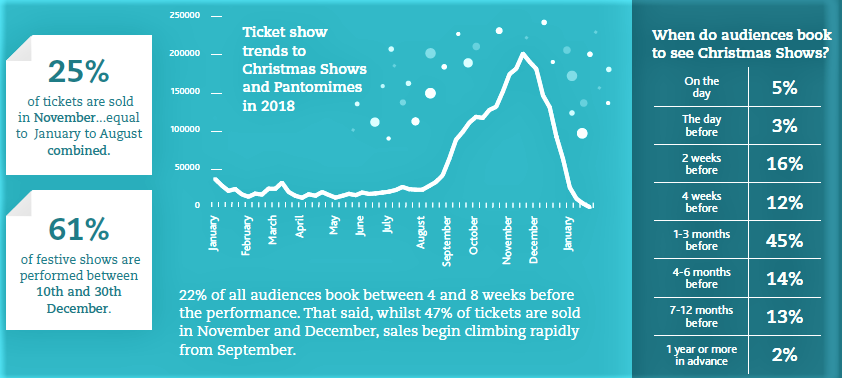 Christmas Shows vs Pantomimes
During the 2018 Christmas season, almost 1000 more performances of Pantomimes than Christmas shows were recorded in the Audience Finder data set.
Average ticket prices rose 16% for Christmas Shows since 2017 (to £18.90) but just 5% for Pantomimes (to £19.60), though these tickets are still priced more highly overall.
The most performed Christmas show and Pantomime of 2018 (as represented in Audience Finder) were A Christmas carol and Aladdin respectively.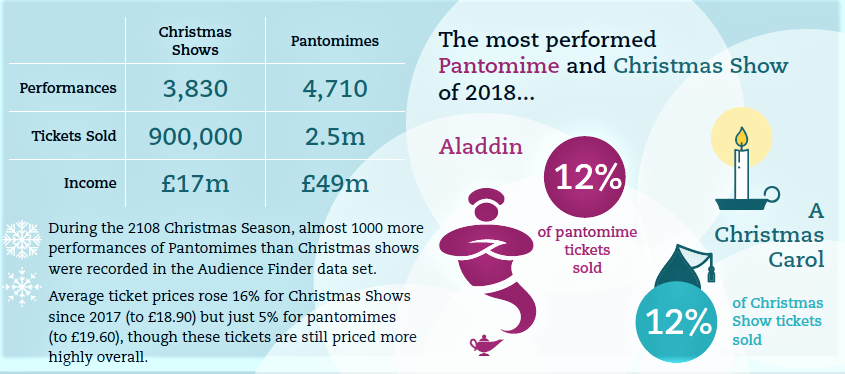 Audience Spectrum
Audiences to Christmas Shows and Pantomimes are, unsurprisingly, more dominated by family-heavy groups, like Commuterland Culturebuffs and Dormitory Dependables than is typical across other forms of cultural consumption.
The usually highly engaged Metroculturals and Experience Seekers, on the other hand, are far less dominant in Christmas audiences.
The top three Audience Spectrum groups most common in Christmas Show and Pantomime audiences are: Dormitory Dependables (24%); Commuterland Culturebuffs (21%); Trips and Treats (16%).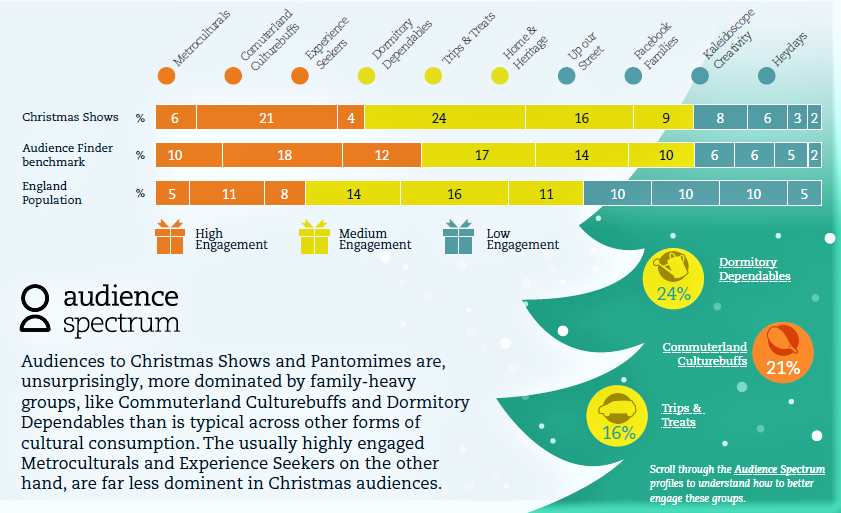 Christmas Time vs Other Attendance
70% of visitors to Christmastime shows have been to an event or production at the same venue on another occasion within the past 12 months.
65% of Christmas audiences are family groups. Conversely, 65% of audiences to other kinds of theatre attend in adult only groups.
53% of audiences for festive shows attend in groups of 4 people or more, whereas year around theatre attendance is overwhelmingly dominated by pairs.

---
---