Latest Key Insights
Working from home is here to stay and is likely to result in more people engaging locally with arts and culture.
Preferences and expectations
For those that have worked from home, a quarter expect to do so all of the time over the next 3 months and over half expect to at least occasionally.
Half of those surveyed expect to do it at least most of the time even when there's no threat from Covid-19.
Two thirds of people prefer working from home most or all of the time, and only 9% never prefer it.
Three quarters of people worked from home more during the pandemic, but this was lower in the youngest and oldest age categories.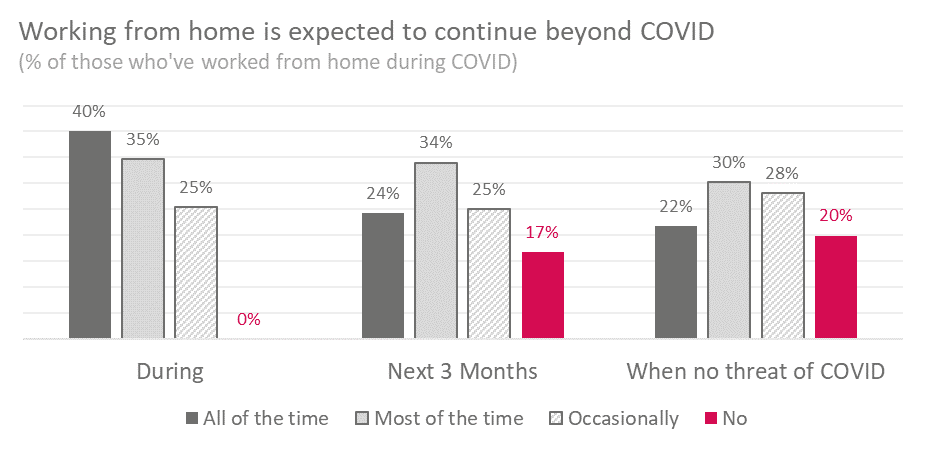 Attitudes to Covid-19 align with work habits
Those who say they are not comfortable in attending events because of Covid-19 are much more likely to say they will continue working from home.
Similarly, those who think we should do everything we can to reduce Covid-19 are more likely to say they'll continue working from home and that they prefer it, compared to those saying we should just live with Covid-19.
Persistence of localism
Even among these more cautious groups though, taking attending live performance as an example, 1/3 people expect to attend closer to home then pre-pandemic,
This is many more than say they will travel further than they used to, and likely a result of work/life balances becoming more home oriented.
This trend towards increased local attendance and away from greater travel to cultural events holds across most art forms.
Nearly 30% of people say that they have discovered new cultural things to do in their local area that they didn't know about before Covid-19, indicating that awareness about engaging with the arts locally (and therefore likelihood to do so) is very much on the rise.
---
Nations
England
Population c. 56 million
"England's vast population has given rise to a huge variety in pandemic experiences. Lockdowns - in terms of both length and severity - have had different impacts at different times across the country, while the experiences of organisations and attitudes of prospective audiences in the North, Midlands, South and (especially) London have diverged greatly throughout..."
---
Northern Ireland
Population c. 2 million
"Northern Ireland's experience of COVID has been a little different from other parts of the UK, for a variety of reasons. With Health a devolved area, the Northern Ireland Executive has set its own policies, although aligned with the rest of the UK, the Irish Republic and WHO guidance. NI-specific policies have included an October 'circuit-breaker' lockdown and Northern Ireland also had a particularly fast start to the roll-out of vaccines..."
---
Scotland
Population c. 5.5 million
"Like their colleagues across the UK, Scottish arts organisations face many uncertainties as preparations for the cultural recovery begin. A longer period of more severe restrictions in many parts of Scotland has resulted in a majority of organisations welcoming very few, if any, audiences since lockdowns began in March 2020, with venues across the sector relying on emergency funding from Creative Scotland and other supporters to stay afloat..."
---
Wales
Population c. 3 million
"Multiple lockdowns have meant working from home has become the norm and unlike some of their counterparts across the border, Welsh Government rulings have kept doors shut for many organisations. As a result, it has become even more important for organisations in Wales to get creative and reimagine their activity and engagement as entities unaided (but also unconstrained) by their buildings..."