Contents
---
Latest Key Insights
Working from home is here to stay and is likely to result in more people engaging locally with arts and culture.
Even among these more cautious groups though, taking attending live performance as an example, 1/3 people expect to attend closer to home then pre-pandemic,
This is many more than say they will travel further than they used to, and likely a result of work/life balances becoming more home oriented.
This trend towards increased local attendance and away from greater travel to cultural events holds across most art forms.
Nearly 30% of people say that they have discovered new cultural things to do in their local area that they didn't know about before Covid-19, indicating that awareness about engaging with the arts locally (and therefore likelihood to do so) is very much on the rise.
More about the Working From Home effect
---
Levelling Up for Culture
The 109 target areas that ACE and DCMS have identified are largely 'Low Engaged' according to Audience Spectrum.
The correlation between the areas that the government's Levelling up for Culture initiative has identified as 'High Priority', and those dominated by currently Low Engaged Audience Spectrum segments is encouraging.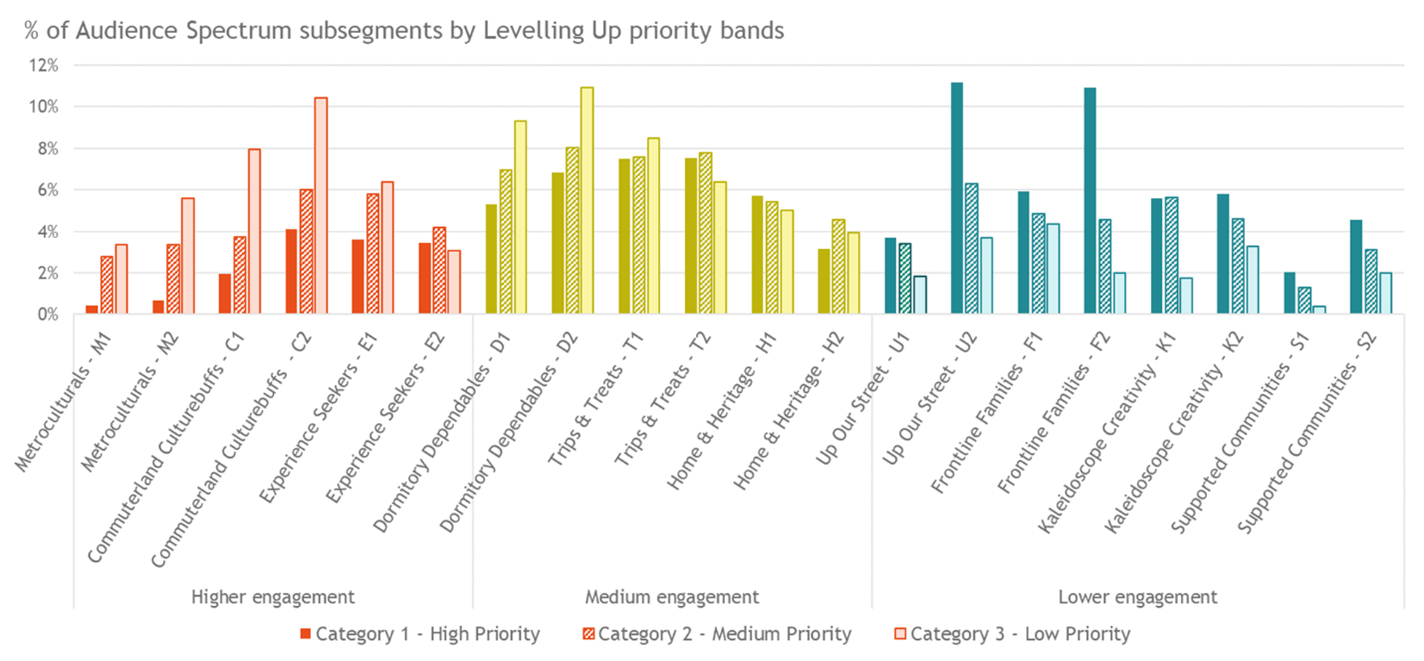 Notably, two subsegments particularly stand out as being especially present in the Levelling Up for Culture places designated as High Priority. These are:
Up Our Street – U2 | Older residents of terraces and flats in built up areas.
Frontline Families - F2 | Younger cash-strapped families & couples starting out.
About Levelling Up Locations by Audience Spectrum Profile
---
Nations
England

Population c. 56.5 million

"England's vast population has given rise to a huge variety in pandemic experiences. Lockdowns - in terms of both length and severity - have had different impacts at different times across the country, while the experiences of organisations and attitudes of prospective audiences in the North, Midlands, South and (especially) London have diverged greatly throughout..."

Northern Ireland

Population c. 2 million

"Northern Ireland's experience of COVID has been different from other parts of the UK. With Health a devolved area, the Northern Ireland Executive has set its own policies, although aligned with the rest of the UK, the Irish Republic and WHO guidance. NI-specific policies included additional 'circuit-breakers' and Northern Ireland also had a particularly fast start to the roll-out of vaccines..."

Scotland

Population c. 5.5 million

"Like their colleagues across the UK, Scottish arts organisations face many uncertainties as preparations for the cultural recovery begin. A longer period of more severe restrictions in many parts of Scotland resulted in a majority of organisations welcoming very few, if any, audiences in 2020, with venues across the sector relying on emergency funding from Creative Scotland and other supporters to stay afloat..."

Wales

Population c. 3 million

"Multiple lockdowns have meant working from home has become the norm and unlike some of their counterparts across the border, Welsh Government rulings have kept doors shut for many organisations. As a result, it has become even more important for organisations in Wales to get creative and reimagine their activity and engagement as entities unaided (but also unconstrained) by their buildings..."
---