Explore the local activities and community engagement of Supported Communties: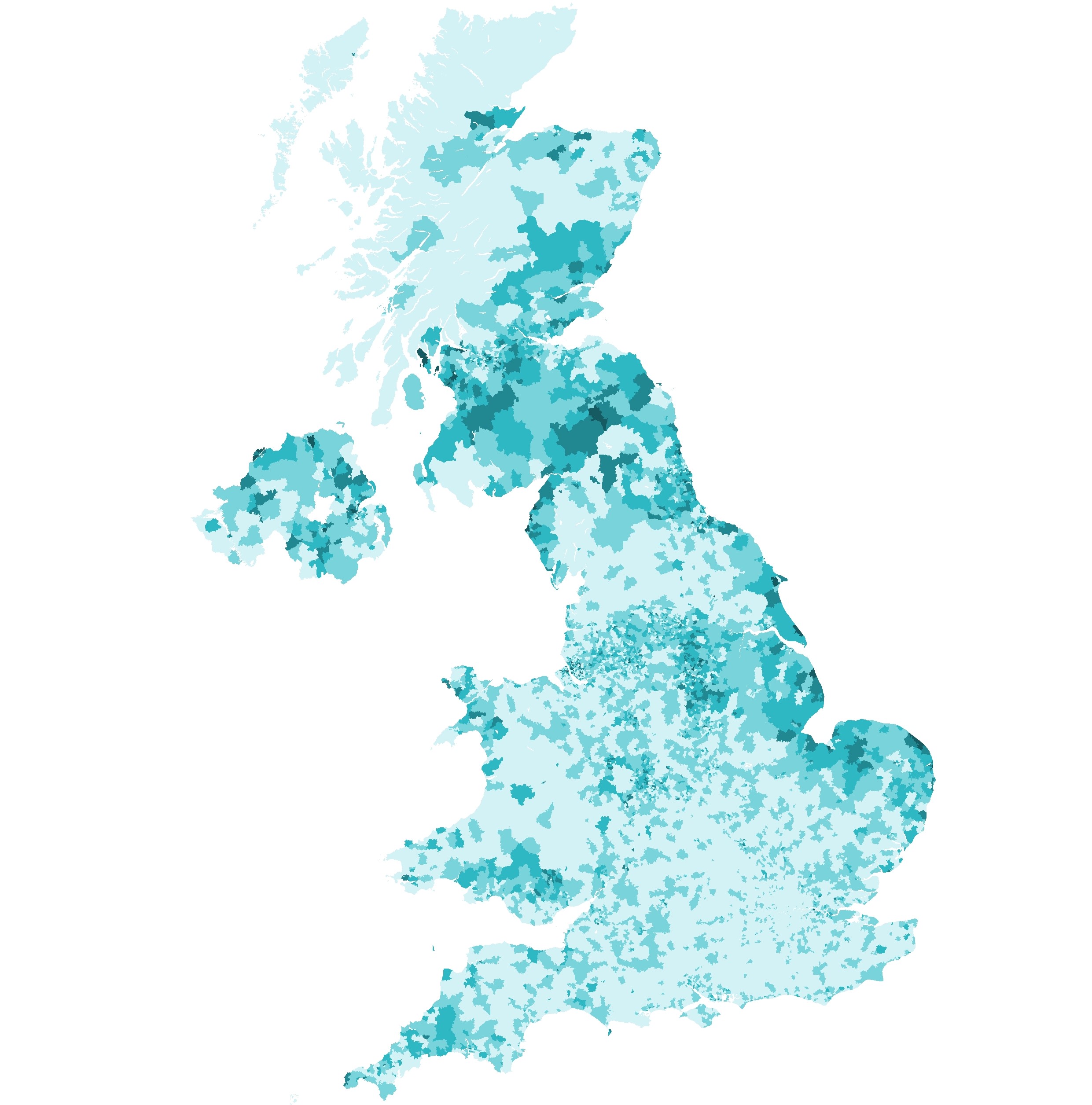 ---
Location
This group is found throughout the UK, but are more concentratedly located in the northern and midlands regions.
This group can be found right across the country, but the biggest concentrations are in found in northern coastal cities like places like Sunderland, Blackpool and Liverpool.

There are comparatively few of this segment located in London.

They are often found social housing - see Profile > Socioeconomics for more detail - on the edge of cities and in suburbs which are not close to the heart of any cultural offer.
---
Provision
Limited access to cultural provision lends itself to a much reduced interest or propensity to attend, but there is scope to change that by bringing the art to them.
Accessing arts events in conventional venues and spaces can prove challenging for many in this group who face the barriers of deteriorating mobility, low car ownership, peripheral locations and relatively poor access to provision.
Though often excluded from many activities due to a raft of health, access and resource barriers, many used to enjoy attending and taking part in cultural activities, and many still exhibit an interest, through for example, their reading and music listening choices, so there could be scope to engage some with specially tailored and organised activities.
There will be resource implications to developing these audiences and the results might be better measured by the quality, depth and value that those experiences may bring, rather than purely in terms of numbers.
It might be necessary to provide transport to and from events in access friendly venues, or take events to the audience, for example in care homes, day centres, social clubs or other community locations. It may also be important that events are assisted by captioning, signing, audio-description for those with impairments and disabilities.
Provision of welcoming spaces conducive to activities for this group's needs will be an important feature, whether they happen in conventional venues, or the activity is taken to the home-base, (which increasingly it may have to be).
---
Community
Whilst this group doesn't have the resources to volunteer regularly or engage in many local activities, lending a helping hand in the community is important.
Few people are involved in their local communities through volunteering.

Age and related health issues are the most likely factors mitigating against this, with levels of volunteering about half the national average.

However, amongst those who do volunteer, visiting lonely and isolated people, providing friendship and offering practical help such as driving people for shopping and appointments are strong features.

Of those who volunteer: 53% do so by giving practical help; 18% do so by visiting people; 13% do so by befriending or mentoring people