You can now find Supported Communities on Audience Answers here.
---
These are the least likely people to attend cultural events, believing that the arts are no longer as important or relevant to them as perhaps they once were. Many live in sheltered or specially adapted accommodation and are excluded from lots of activities by age, health, access and resource related barriers. If they do engage, it is likely with participatory activities that allow them the chance to socialise, such as craft, knitting, painting, etc., organised by their housing, faith or community groups.
Key Statistics:
| | | |
| --- | --- | --- |
| Activity Level | | | Low Cultural Engagement |
| Spectrum Ranking | | | 10/10 |
| Audience Finder Benchmark | | | 2% of Active Audiences |
| Population Prevalence | | | 4% of UK Population |

Core Characteristics:
NEW | Supported Communities Further Segmented:
While all Supported Communities broadly share these core characteristics, closer examination reveals two key subsegments who differ in life stage and style. If your target audience or local area is heavy on Supported Communities, understanding their variety can help with programming, marketing and outreach.
| | |
| --- | --- |
| Supported Communties | S1 | Supported Communities | S2 |
| | |
| --- | --- |
| Young, immobile and hard-up, often relying on welfare to get by. | Elderly residents of sheltered housing with declining health. |
Covid Cultural Participation Scale:
Informed by evidence from the Cultural Participation Monitor, this scale shows whether this group's intention and ability to engage with arts and culture long term was likely to have been more or less affected by Covid than other segments.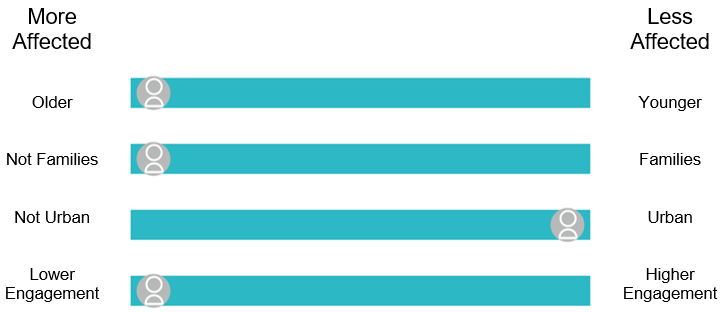 This is the group most vulnerable to the virus - but also to loneliness and isolation - and most will have spent the pandemic shielding or in care homes.
Already the least inclined to engage with arts and culture, they won't seek it out as things start to open up, but reaching out to them through community groups and initiatives could prove a welcome chance to connect.
See Audience Spectrum Through Covid for more about their experience.
Cost of Living Concerns: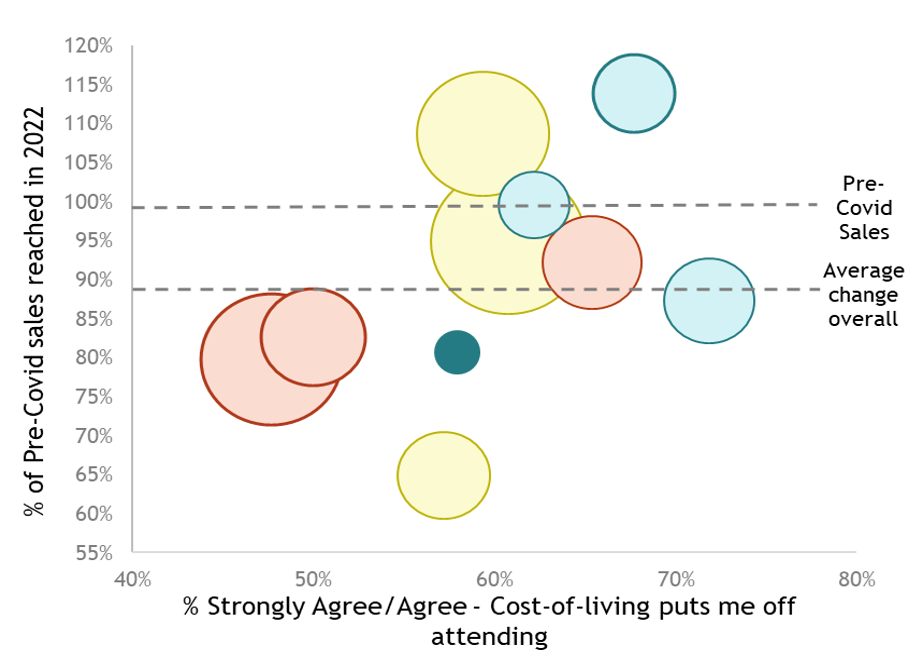 Supported Communities attendance has not bounced back post-Covid and, whilst they are not among the most put off engaging with arts and culture by the cost-of-living crisis, this likely reflects their general low levels of interest and participation.
Explore all 10 Audience Spectrum segments ▼