Opinion | 'ull, oui!
Oliver Mantell reflects on why we should all support Hull City of Culture 2017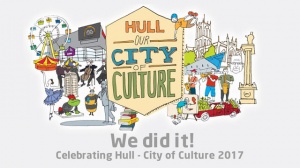 I've just returned from a weekend in North Yorkshire and it's striking how strong the impression of the Le Tour Yorkshire still is, cafes and houses still covered in polka dots or sporting Tour bunting, yellow bikes on walls, writing on the road, exhibitions in museums. Rather than a fleeting moment of the peloton passing, the event has become more even than the build-up of related events and the wider weekend itself, there's a strong sense that something remarkable happened. Something communities are proud of and in which visitors are still interested.Retracing the route over Buttertubs had more excitement and drama even than provided by the scenery itself.
As with the Olympics before it, the sceptics were proved wrong. I'll admit that I was one of them: I feared in advance that both events were being over-hyped, that the build-up and costs were so large and the events so brief. But not only was I wrong, I was wrong precisely because other people were right: they got enthused, turned out in their millions and, by doing so, showed that they were right to be excited.
This was partly because of the hundred-day Yorkshire Festival of arts around the Tour: extending the geographical reach, timescale and impact beyond the weekend itself. It also helped to generate additional news stories like this one, on the piano being pulled up Cragg Vale. More than that however, it was an event that had a huge range of contact points, both physically, along the route but also conceptually. The sporting contest was only one element within this, acting as a lightning rod for much broader interest (including, as with the Olympics, a surge in Yorkshire patriotism).
The build-up is already underway for another big event in the region: Hull 2017, City of Culture. Its effects are already being felt, this year's Freedom Festival had a 40% increase in visitors on the year before, including a higher proportion of visitors from outside the city and the region. I admit I'm predisposed to be in favour of this anyway, I've always enjoyed visiting and have friends and my sisters in-law there. Again, though, some people are reacting with scepticism, there's been a bit of a reaction of surprise or even frequent suggestions that 'well, I guess they need it'.
But while Hull may be used to being talked down and talked down to, it's a genuinely special place. Partly, it's the extraordinary geography: the amazing views you get around the city: huge vistas of land and sky and sea, the stark drama of the Humber Bridge. Partly it's having some of the best place names in the country: 'Land of Green Ginger', 'Hull Paragon Station', even if they're still wrangling over what to call their football team. Partly it's the culture that already is, or has been there, venues like Hull Truck and the Ferens, the many famous poets and bands that we'll keep hearing so much about(and it's worth noting that for poetry, it's not just Larkin. . But there's also a uniqueness, independence and difference that makes the City of Culture such an exciting prospect powerfully captured in the promotional video for the City of Culture. As a result of this obstinately distinctive charm, I don't know what it'll be like, but I'm sure it'll be remarkable.
The challenge for Hull will be enabling a high-impact national profile, whilst also encouraging community engagement and ownership. There's already evidence that the city is strongly behind the City of Culture, a fact which contributed to the successful bid. This was perhaps most entertainingly expressed in the Hull City fans' chants to the visiting Londoners of Crystal Palace that 'you're only here for the culture / here for the culture…'. The Creative People and Places programme taking place in the city in the run-up should help to ensure that the City of Culture reaches beyond the traditional arts audiences in West Hull and out in the East Riding, as should the diversity of events being planned (an estimated 1,500 events covering all 365 days of 2017).
The big event has brought in big names, including journalist and broadcaster Rosie Millard and Martin Green, mastermind of the Olympic and Paralympic ceremonies and Grand Depart in Leeds. But it's also animated partnerships between existing organisations and drawn on the long-standing knowledge and relationships within the city. Around that kernel, however, the cultural sector across Yorkshire and beyond has a role to play. Although 2017 may seem a while away yet it'll come round quickly enough and I'd encourage everyone to be enthusiastically supportive of the city and City of Culture (if you don't know why Hull is great, go and visit!). As with Le Tour, it'll be far better to be out in front of the pack, rather than the sceptic at the back trying to catch up…