---
Audience Finder Original is the arts and culture sector's free, UK-wide data-driven audience development tool. Use it

to easily compare and apply insights about your audiences to understand who they are, and who they could be
.
Audience Finder Original includes
Ticketing Dashboard. See your bookers in context, regionally and nationally.
Survey Dashboard. Understand your audience profiles and motivations using our standard audience survey.
Mapping Tool. Explore the distribution of the 10 Audience Spectrum segments across the UK, and identify where your potential audiences are.
National Picture. Even if you don't have any data, Audience Finder can help you gain insight into audiences by Audience Spectrum segment, artform and nationally.
Ready to get started?
Register with Audience Finder Original for FREE
---
More about the UK's leading audience insight

service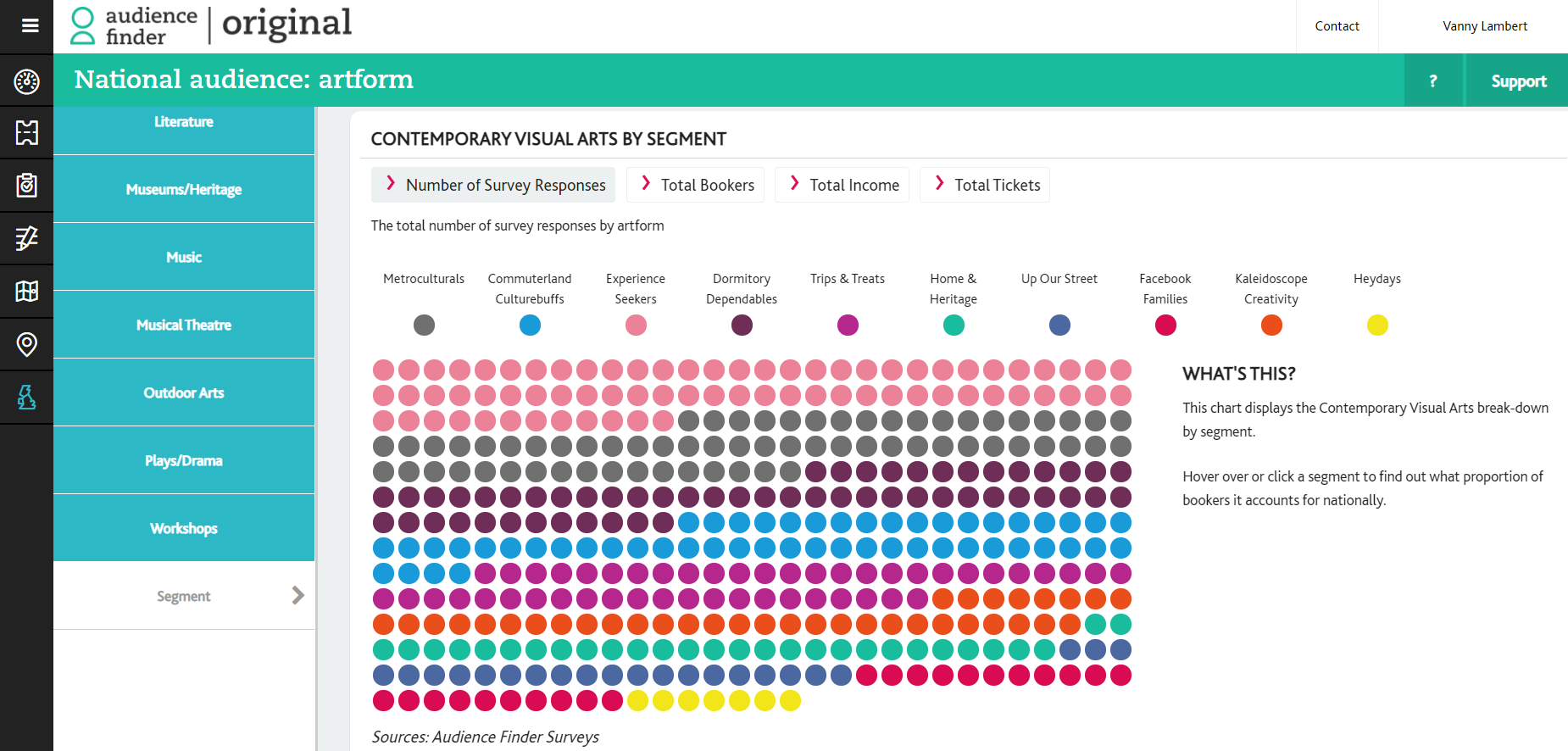 Used by over 1000 organisations of all types across the UK since 2015, Audience Finder Original is one of the essential resources in every arts organisation's toolkit. By providing individual context on your data to put your insight into practice, the tool lets you analyse, benchmark, and report on your ticketing and Audience Finder survey data with ease.
"Audience Finder is one of the most exciting and powerful forces in Arts Marketing that has ever existed."
Chief Executive, QUAD
Register with Audience Finder Original for FREE
---
Get even more from Audience Finder
Enhanced Survey Dashboard

The Enhanced Survey Dashboard makes understanding and reporting on your audiences and visitors even easier. This additional feature gives you three new filters offering you greater insight into your audiences and visitors: Custom Date Range, Group Type, and Visitor Type.

Enhanced Tickets Dashboard

The Enhanced Tickets Dashboard makes understanding your audiences and reporting on them even easier, with our three enhanced filters: Audience Spectrum Types, Second Tier Artform and Custom Date Range. All three can be used as a stand-alone filter, or in combination with another.
---
With thanks to our supporters