---
As a touring company or venue-based organisation, you can understand who your audiences are, whatever the production, wherever you call home.
Show Stats lets you monitor your audiences:
through a free annual summary of all your productions over the last year,
on a performance-by-performance basis,
across a full tour or season,
or in custom groupings of your choice.
Register with Audience Finder Show Stats for FREE
---
More about Audience Finder Show Stats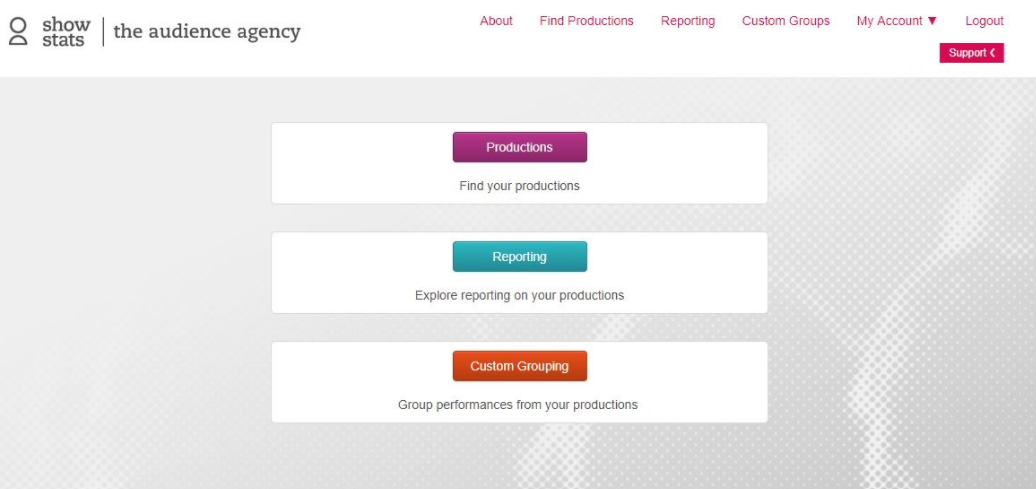 Show Stats is the key tool for touring companies and receiving venues in the performing arts. Whether you are funded or commercial, you can utilise the power of Show Stats to grow your audiences. It provides invaluable insights to create the strongest possible integrated marketing plans or to build effective cases for funding and partnerships.
For everyone: Show Stats can be used by any organisation with ticketed events, whether they have direct access to the box office system or not. It provides audience reports by show, performance, run or tour. To use it, you simply log in and use 'Find Production' to identify your shows for reporting.
For National Portfolio Organisations: Show Stats provides additional benefits in meeting Arts Council England's funding conditions and reporting requirements. Show Stats will provide you with anonymised data from your chosen venue(s) for analysis and insight purposes.
For Museums and Galleries: As long as you have ticketed events and this data is feeding into the Audience Finder dataset, a museum or gallery can use Show Stats to understand its audiences in the same way as any other venue.
Register with Audience Finder Show Stats for FREE
---
Get even more from Audience Finder Show Stats
Free Features

Find Productions. Search by financial year and venue to create a list of your productions, and request access from that venue.
Verification. The venue can review requests and approve access to your production's data.
Annual Summary Report. Create a report once a year that combines audience data from all your approved productions, to give you an overview of your audiences for that financial year.

Enhanced Features

Production and Performance Reporting. Access a list of your activated productions and run a report on either the whole production or any individual performance. You can still access the free Annual Summary Report.
Custom Grouping. Use this tool to create any bespoke groupings of performances or events, e.g. according to the time of show, type of repertoire or artists performing.
---
With thanks to our supporters: