Key Points:
---
1. Attendance rose significantly in 2021, even though it hasn't recovered to pre-pandemic levels yet
Attendance dropped significantly for all artforms during the pandemic. However, latest findings show that the gap in attendance levels is slowly closing compared to pre-pandemic levels.
For many activities (outdoor arts, film, performing arts, heritage), engagement in 2021 was double or more the proportion engaging in 2020.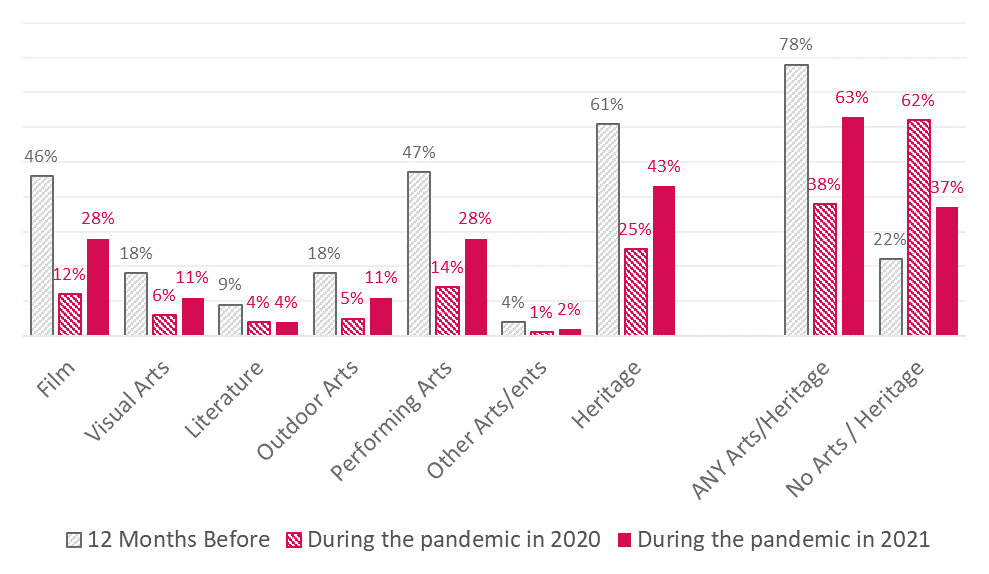 When looking more specifically at only people who attended arts or heritage activities at any point during the pandemic, we can see that cinema trips were the most popular. This is followed closely though by well spaced and ventilated activities like museums and heritage, along with spending time outdoors (which was also relatively more popular in 2020).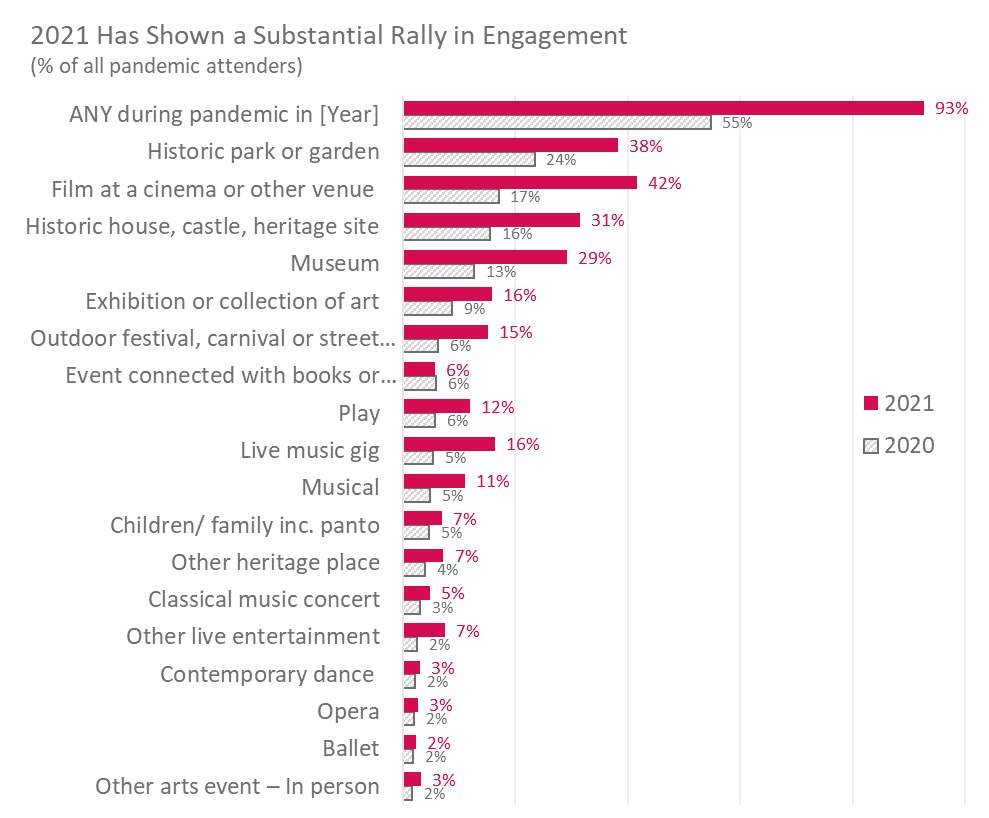 The proportion of people who attended an arts or heritage event during the pandemic went up by two thirds in 2021 (in the period up to October 2021) compared to the pandemic period in 2020 (March to December 2020). The proportion who visited heritage sites and museums has doubled, and attendance to live music gigs has tripled, from 5% to 16%.
While in-person engagement has been on the rise, reports of online cultural engagement are falling this year from 31% in 2020 to 24% in 2021, and just 13% in the last two months.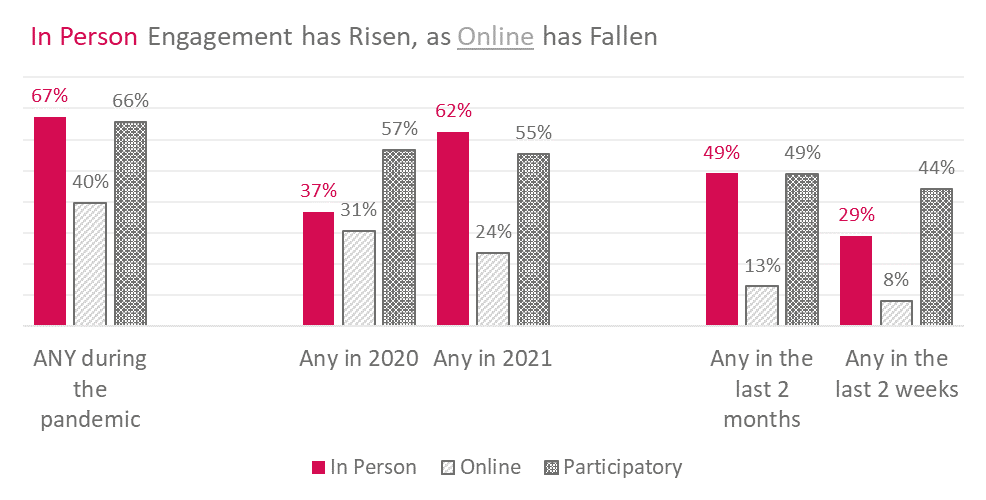 ---
2. Willingness to attend cultural events in person may be on the rise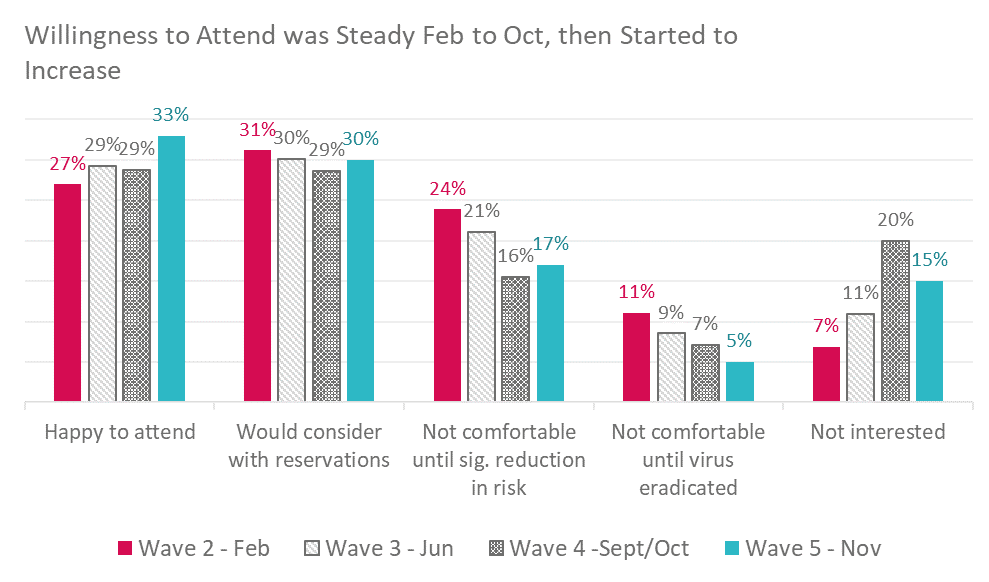 These trends in 2021 reflect an uptick in willingness to attend. Numbers of those not comfortable attending have fallen and with the last wave a third of people were now happy to attend without reservations. However, over a third are still not comfortable attending or uninterested. It should be noted that these responses were received before news of the Omicron variant.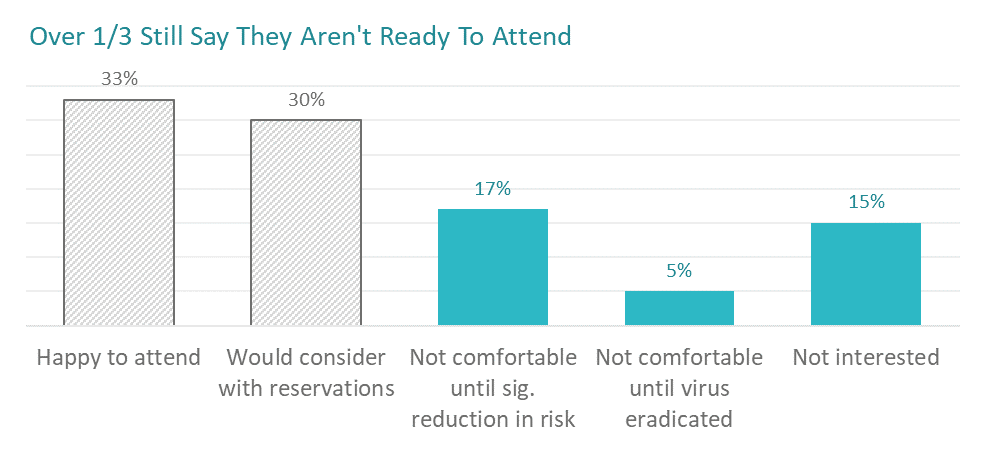 ---
3. Audiences still care about Covid safety measures
Audiences tended to be satisfied with the safety measures already taken by organisations, especially at heritage and visual arts venues. Musicals, plays and outdoor arts received the most mixed ratings, although remaining broadly positive.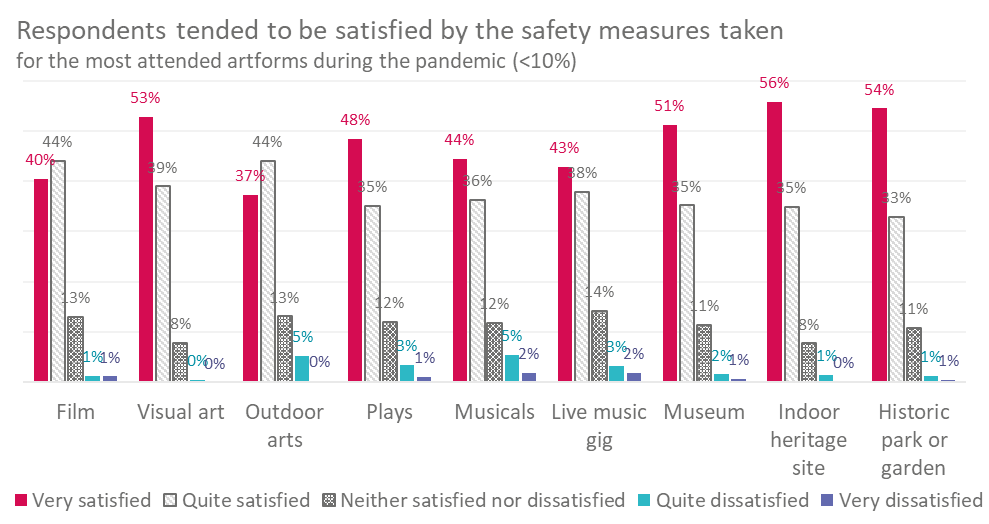 People perceived a greater risk of catching Covid at indoor events, with 36% saying this was a high or very high risk (cf. 14% for outdoor events). All the suggested safety measures were rated highly important for both indoors and outdoors, finding ventilation the most important indoors and crowd management particularly important when outdoors.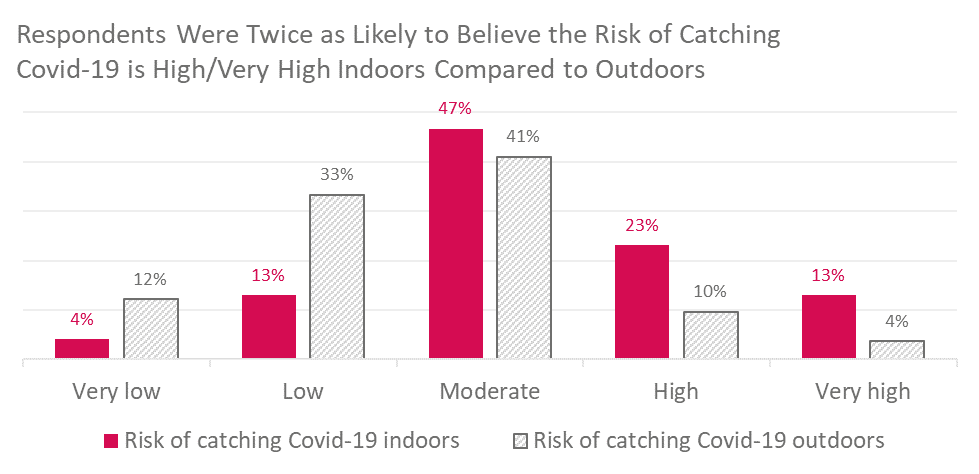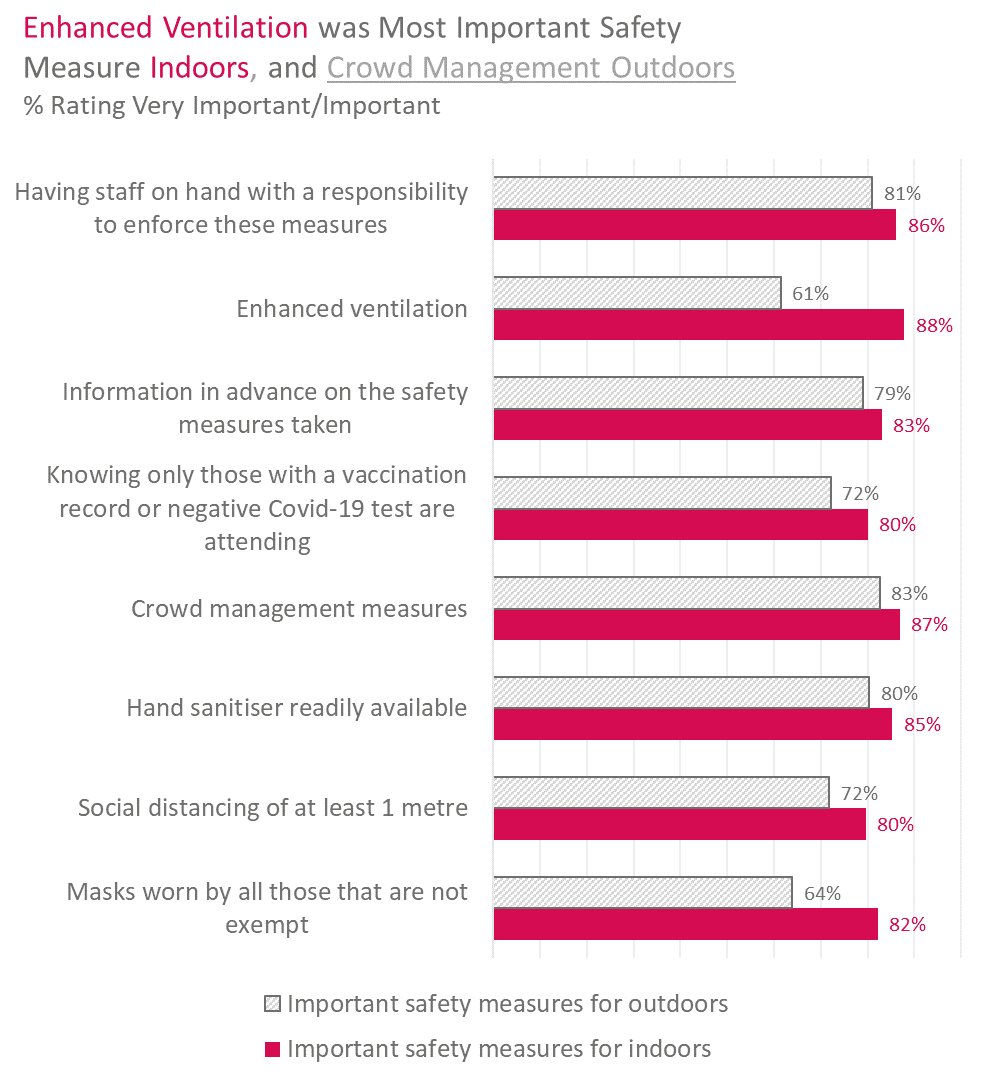 These findings suggest that audiences are overwhelmingly in support of continuing to take precautions, regardless of the inconvenience. Most people said they would want 'about the same' level of measures if they returned, and more people said that they wanted more measures than said they wanted less. Notably, the high levels of satisfaction with current safety measures were also true for the 30% of people who said they 'would consider attending, but with some reservations about Covid safety' (and attended). This suggests that these reservations are not necessarily because the measures already in place are lacking.
---
4. Shifts in audience behaviour are likely to be longer term – but may bring new audiences
Most groups expect to attend all cultural activities less often in the future, compared to pre-pandemic levels. 27% saying they'd expect to go to the cinema less often in the future, compared to before the pandemic. On the other end, 22% expect to attend outdoor heritage venues more in the future.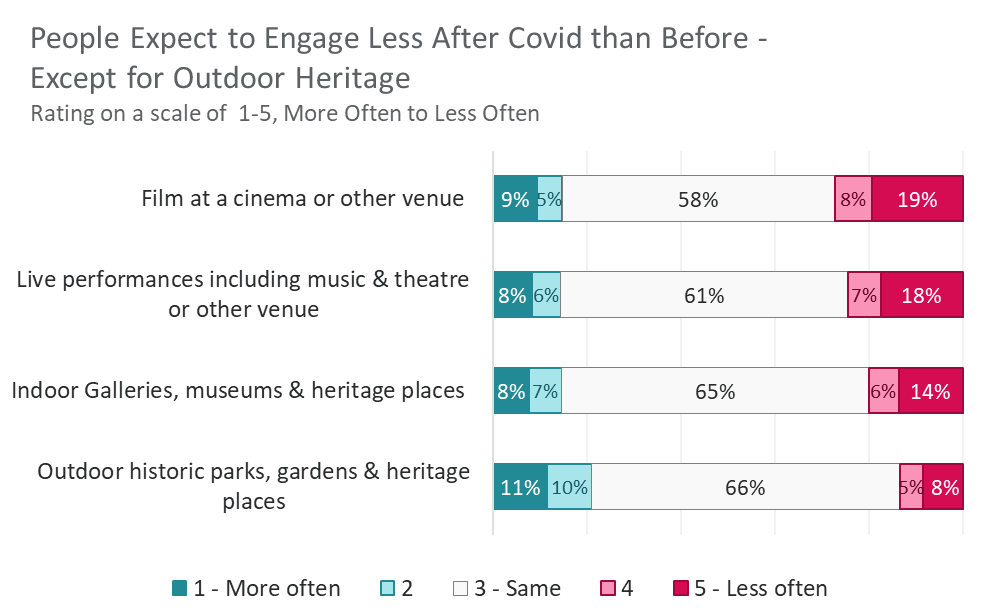 This is consistent with audiences' feelings about how Covid will affect our lives in the long term: 78% felt the impact will still be felt in a year's time, and just over half (57%), believe the impact will still be felt in two years' time.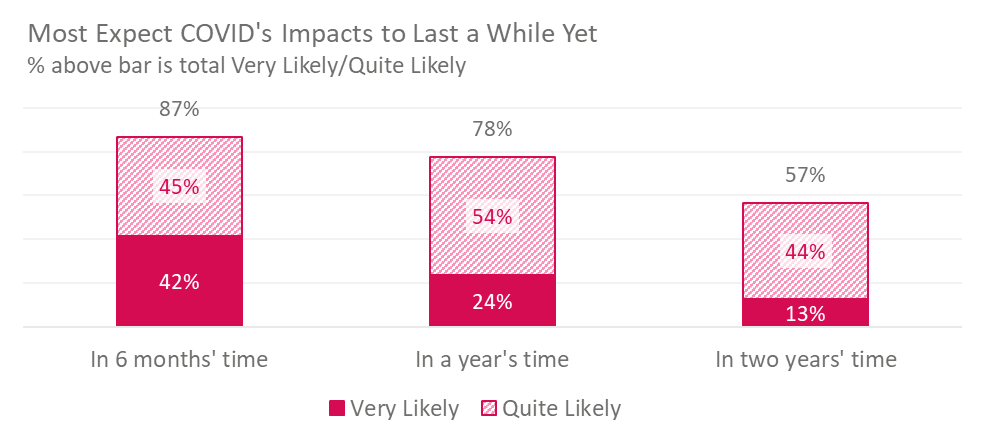 Older groups expected to attend cultural activities in-person less often compared to before the pandemic, and inversely younger people (especially under 35s) and students were more likely to expect attending more often. Families (especially with those with younger children) and those living in cities were also more optimistic.
The trend towards less future attendance was true across the Audience Spectrum groups, apart from for Metroculturals. There were substantial reservations among the medium engaged groups.
---
About the Research:
The Cultural Participation Monitor is a year-long programme of research into representative samples of the UK population, to identify their cultural attendance, participation and online consumption before, during and beyond Covid, along with a range of other relevant information about profile, behaviour and attitudes. These findings are from Wave 5 of the Monitor, with fieldwork taking place online from 27 October to 16 November 2021. There were 6,957 responses, selected using quotas for age, gender, ethnicity, region and Audience Spectrum (The Audience Agency's arts-based profiling model), weighted to ensure representativeness.
---
This report is part of a national research programme led by the Centre for Cultural Value in collaboration with the Creative Industries Policy and Evidence Centre and The Audience Agency.
The project is funded by the Arts and Humanities Research Council (AHRC) through UK Research and Innovation's COVID-19 rapid rolling call.