You can now find Dormitory Dependables on Audience Answers here.
---
A significant proportion of audiences are made up of this dependably regular if not frequently engaging group. Most live in suburban or small towns and show a preference for heritage activities, alongside popular and more traditional, mainstream arts. Many are thriving well off mature couples or busy older families; lifestage coupled with more limited access to an extensive cultural offer mean that culture is more an occasional treat or family outing than an integral part of their lifestyle.

Key Statistics:
| | | |
| --- | --- | --- |
| Activity Level | | | Medium Cultural Engagement |
| Spectrum Ranking | | | 4/10 |
| Audience Finder Benchmark | | | 20% of Active Audiences |
| Population Prevalence | | | 15% of UK Population |

Core Characteristics:
NEW | Dormitory Dependables Further Segmented:
While all Dormitory Dependables broadly share these core characteristics, closer examination reveals two key subsegments who differ in life stage and style. If your target audience or local area is heavy on Dormitory Dependables, understanding their variety can help with programming, marketing and outreach.
| | |
| --- | --- |
| Dormitory Dependables | D1 | Dormitory Dependables | D2 |
| | |
| --- | --- |
| Commuter-town families, investing for the future. | Settled, comfortable residents, enjoying regional life. |
Covid Cultural Participation Scale:
Informed by evidence from the Cultural Participation Monitor, this scale shows whether this group's intention and ability to engage with arts and culture long term was likely to have been more or less affected by Covid than other segments.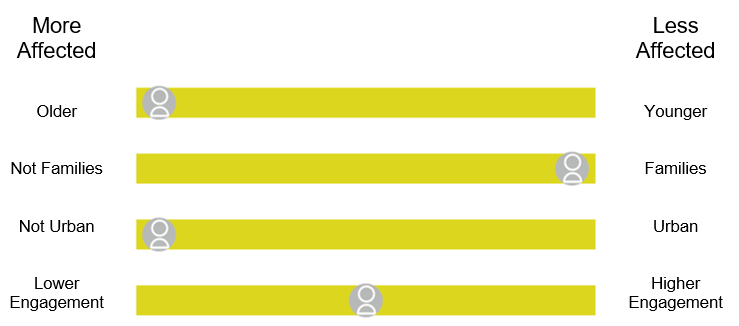 Dormitory Dependables lean towards the older and more rural ends of the Audience Spectrum, so unlikely to have been around available culture during the height of the pandemic, but the opportunity to start celebrating special occasions again with family and friends will have been extremely welcome.
Given their leaning towards heritage offers, they are likely to have been able to return to the cultural activities that they enjoy relatively early in the reopening process, and will have been leading the charge of panto returns during Christmastime 2021.
See Audience Spectrum Through Covid for more about their experience.
Cost of Living Concerns: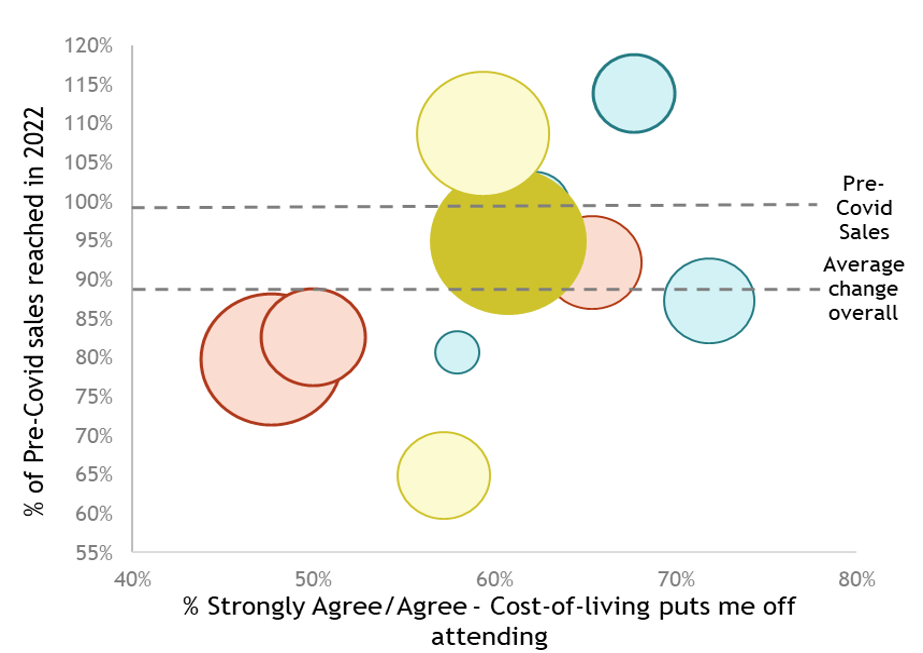 With attendance back up to pre-Covid levels and concerns about cost-of-living falling in the middle range, Dormitory Dependables are still likely to reliably engage with live arts and culture for special occasions, even through this crisis.
Explore all 10 Audience Spectrum segments ▼