Latest Insights
Perceived Covid-19 related risks are decreasing, while willingness to attend events, especially outdoors, is rising.
Perceived Covid-19 related risks are decreasing, while willingness to attend events, especially outdoors, is rising. Willingness to attend overall is up to 39% saying they are 'happy to attend' (from 30% in November 2021), whereas 20% people cite Covid-19 as a reason they don't want to attend.
People are split on whether the end of Covid-19 rules makes them more or less confident, with around a third for each and the remainder saying neither.
They are also split on whether their in-person arts attendance will be the same or less than before the pandemic, with about 40% for both. This is itself an increase from November, when more expected to do less than to do more.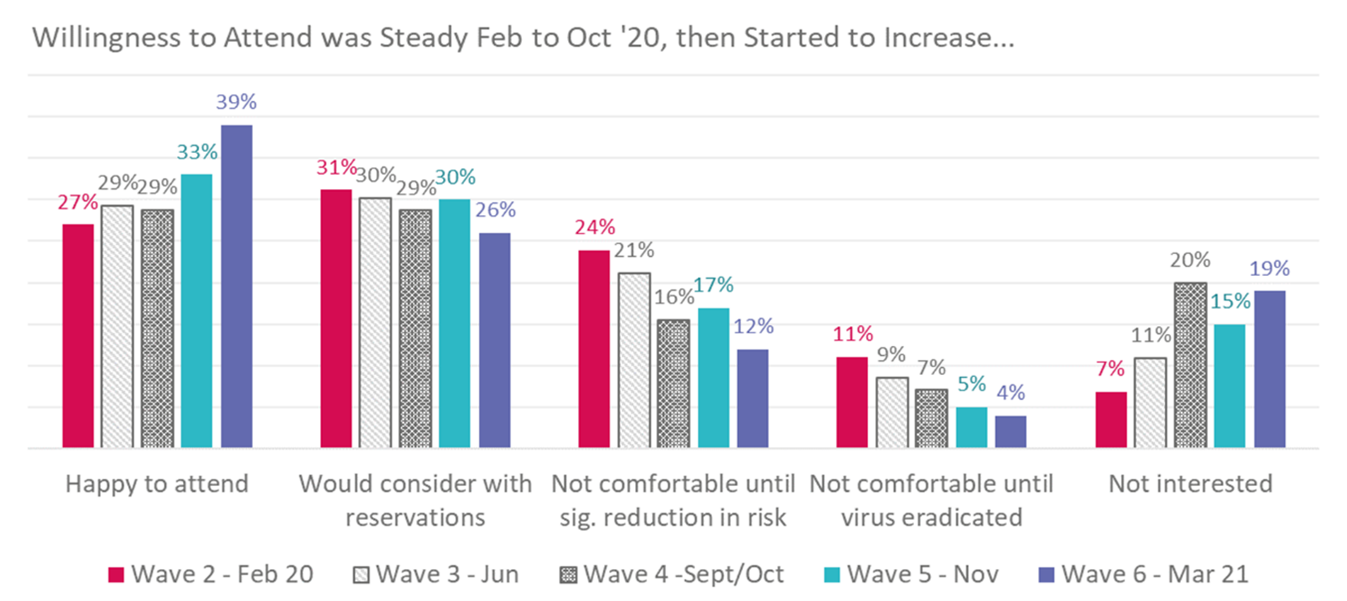 Perceived risk from attending indoor events
People still feel far less at risk of contracting the virus at outdoor events.
39% of people think the risk of catching or spreading Covid-19 indoors averaged across all cultural events is high/very high, but this reduces to 13% when events are outdoors.
In comparison 20% assume the same risk when doing day to day activities.
Wider attitudes to COVID-19
Attitudes to Covid-19 are still very divided, with the public holding a broad range of viewpoints.
Overall, more people say that they think that Covid-19 is not over and that they still take precautions, than say the opposite.
On the other hand, more also say that it is time to get back to normal and that their own attendance is back to normal.
At an individual level though, people are generally more consistent with assessing risk, or being willing to attend events relative to their attitudes to Covid-19, than this overall picture may suggest. Meaning that the same people who think the threat is low and that we should be getting back to normal, are happy to return to indoor events and plan to spend the same amount on entertainment.
Those completely happy to attend are much less likely to assess a high risk of Covid-19 indoors, and 3 times more of them think we should accept Covid-19 and live normally compared to the overall population.
For those who think there's a low risk, they are less than half as likely as people generally to say their spending on entertainment will decrease a little/a lot.
---
All Reports
Creative Participation
Actively participating in arts and culture activities is just as important (if not more so than) attending in person or online venues and events, so we're keen to share our findings about people's personal creative engagement during the past few years.
Willingness to Attend
Looking at changes over time in terms of which audiences are most and least willing to attend live events in the near future, and which are more or less likely to have already booked for them.
---
Philanthropy and Giving
In the Winter 2021 wave of our Cultural Participation Monitor, we asked respondents specific questions about their attitudes to financial support for the arts, either personally or politically, as well as their own intentions for giving.
---
Panto and Christmas Show Attendance 2021
This report summarises findings from the Cultural Participation Monitor, Audience Finder and elsewhere, to look ahead at likely sales for Christmas performances in UK theatres and venues. The overall outlook is not positive.
---
Participation for Boosting the Mood
There is some evidence that taking part in arts and heritage activities in-person or online during the pandemic may have had a positive impact on audiences' wellbeing.
---
Vaccine Effect on Attendance
As of June 2021, willingness to attend has not changed significantly since February 2021, despite the roll-out of the Covid-19 vaccination.