COVID-19 has had a profound impact on the cultural sector, those who work in it, our audiences and communities. The Audience Agency, recognising our role and responsibility as a 'sector support organisation', has been doing what we can through this crisis to assist the arts and cultural sector. A key part of that has been providing a range of publicly available evidence and insight to reduce the many unknowns. If previous certainties about audiences may no longer be a reliable guide, we've tried to cast new light on audiences as they are now: their experiences, behaviours, values and future intentions.
---
Among the wide range of evidence we've already been sharing via our COVID-19 Insights section of our Bounce Forwards support programme, the COVID-19 Cultural Participation Monitor is the most important.
This research starts from a belief that everyone's experiences, and everyone's cultural engagement, matters. That we cannot understand the cultural impact of this moment without listening to the whole of our society. And that we need to recognise the different situations from which people came into this crisis and the different ways — whether in its apparent changeability, or in reinforcing existing disadvantages — that it has affected people as they have passed through it. We hope that it will also help us to 'build back better', responding to a far wider range of experiences and needs than before.
Key Findings
Physical engagement:

27% had done any​ in the pandemic year (Mar '20-Feb '21) cf. 87%

before: only 19% of 45+, 36% of those younger.

​
Digital engagement:

(only) moved from 41%-43%, but 53% engaging more.

​
Creative activities:

slight drop, not just for 'outside the home' activities.

​
Reinforced inequality:

impacts worse & less vaccination for younger, Black/Asian, lower

income, (disabled), lower engaged.

​
Missing arts and culture:

77% strongly agree missing

something

; highest for live events

(29%) and film (27%).

​
Willingness to attend:

27% happy to, 31% willing with reservations, 24% not until reduction

in risk, 11% not until virus virtually eliminated, 7% not interested. Different profiles, different attitudes.

​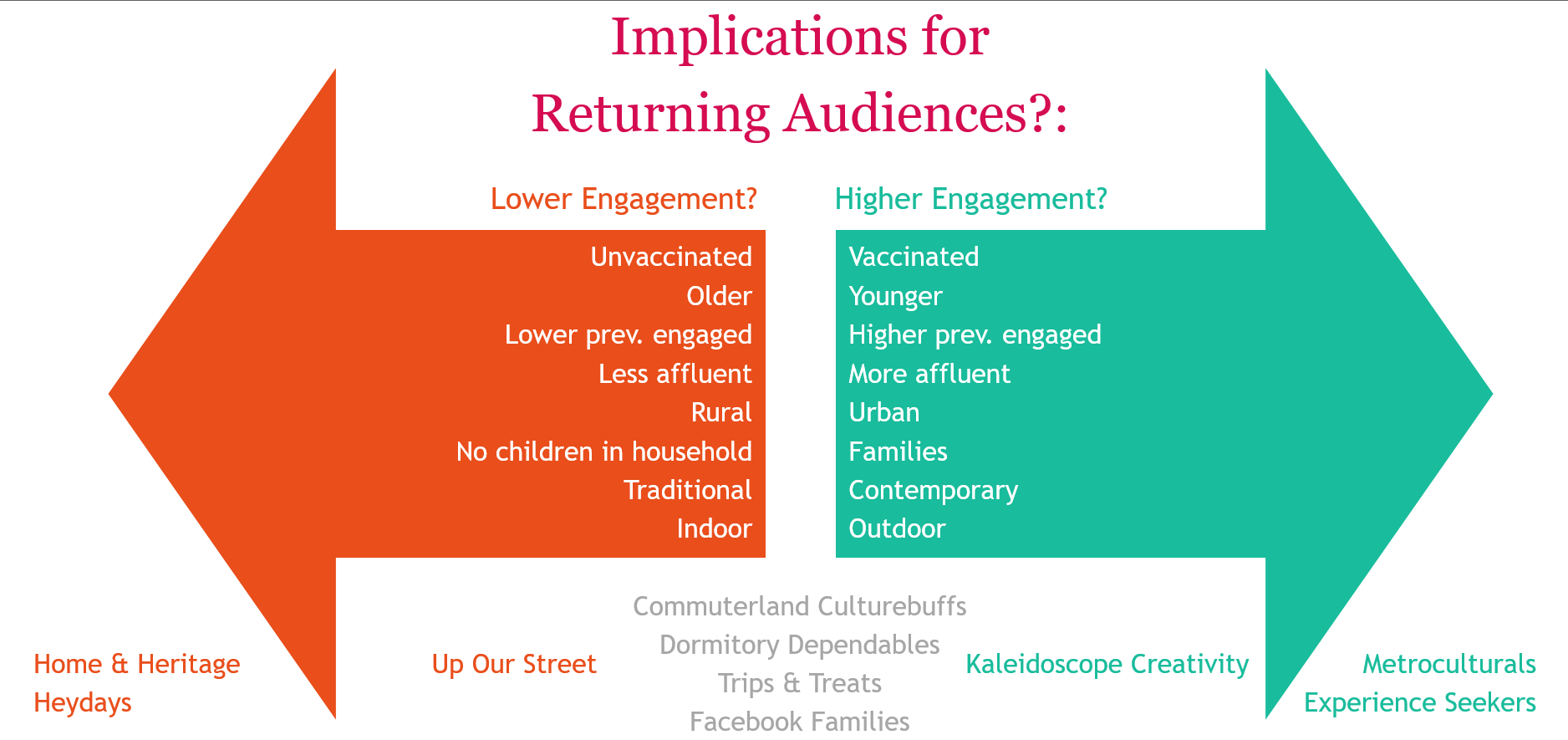 To get a full overview of where we think audience thinking is at as of Spring 2021, sit down with a cuppa for 45 minutes while Oliver Mantell, Director of Policy Research, takes us through what different types of people have been doing during the pandemic, how they feel about coming back, and what the implications might be for the sector:
Download these slides as a PDF
---
Headline Reports
We are regularly releasing a series of substantive reports that explore the full breadth of the monitor's findings about audiences' experiences, expectations and intentions before, during and after COVID.
Wave 1 | Initial Findings - Autumn 2020
Wave 2 | Inequality through COVID - Spring 2021
Deep Dives
We're also producing a range of supporting articles that dive deeper into particular aspects of the monitor's findings.
---
About the Monitor
This research is part of a national research programme led by the Centre for Cultural Value in collaboration with the Creative Industries Policy and Evidence Centre and The Audience Agency. The project is funded by the Arts and Humanities Research Council (AHRC) through UK Research and Innovation's COVID-19 rapid rolling call. This collaborative approach is what has allowed us to conduct such an extensive national programme of ongoing research, helping us to understand and track changes in the public's cultural participation through and beyond COVID-19. The Cultural Participation Monitor report provides an initial overview of the findings from the first wave of field work, already offering a clear picture of the impact of COVID-19 across the whole population - how it has affected cultural engagement so far, as well as how it is likely to affect it in the future.
We will continue to build on this foundation to provide an ever-richer understanding of our communities and their cultural engagement. Importantly, this research is focussed on the whole of the UK public and will track and explore their behaviours, attitude and intentions throughout the crisis, running in a series of waves of nationally representative panel surveys well into 2022. It doesn't only focus on a particular moment in time, or a specific artform, or only 'core' audiences, or those on mailing lists.

---
The Audience Agency commissioned Dynata to carry out a population survey online, with quotas based on age, sex, ethnicity, region and Audience Spectrum segment. 6,055 responses were received in the first wave, collected from late October to early November, 2020. Additional waves of surveys will be undertaken every couple of months until autumn 2021. This report provides a summary of initial findings; there will be more summaries by topic and for future waves of the survey.
---